Everybody's breast feeding journey is unique, however most breastfeeding Mum's find they will leak milk during feeds (from the other breast), in between feeds and at nighttime. Our Reusable Breast Pads have been designed to provide protection and comfort during your breastfeeding journey.
Our Reusable Breast Pads are made with three layers, each specifically selected with comfort in mind. A layer of soft bamboo will sit against your skin, followed by a layer of microfiber for absorbancy, topped with a waterproof and breathable PUL layer to prevent any embarrassing leakages!
The Bamboo layer is designed to draw the wetness away from your skin, keeping your skin dry. Bamboo is breathable and has antibacterial properties which help reduce the risk of infections, such as mastitis.
Our breast pads are comfortable to wear and will fit perfectly into your bra. Our Breast Pads are approx 12cm in diameter and will suit most cup sizes, as the most important thing is that they cover the nipple.
Our Breast Pads are machine washable. We recommend changing your Breast Pads frequently to keep your skin dry, breast pads should be changed as soon as they are damp.
We have also created our Nighttime Breast Pads which offer double the absorbancy to prevent any leakages during the night - see Nighttime Breast Pads here. Please note nighttime breast pads are not available as part of our packages.

All purchases on breast pads come with a bonus mesh wash bag (subject to availability).
Customer Reviews
I recommend this product
100% happy
Haven't used them yet as im still pregnant however they are super soft material, the size is great, patterns are absolutely beautiful. Product is exactly what was described and postage was very fast. Would recommend this company!
07/05/2021
Anonymous

Australia
I recommend this product
Beautiful breast pads
As a new mum I don't have much to compare the product to but I have found these breast pads to be good quality and comfortable. The amount in the 10 pack is a perfect amount. I love the different beautiful patterns and the having these is environmentally friendly, plus a good money saver in the long run. I'm happy to be supporting an Australian business. I'd love to see Gumnut, Greenery, Australian plants or Aboriginal inspired patterns.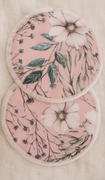 06/05/2021
Sarah J.

Australia
I recommend this product
Very happy with this quality product
I am very happy with the breast pads. They are very comfortable, absorbent, they wash well and are much cheaper than buying disposable pads. I highly recommend them and wish I had bought them when I had my first daughter.
05/06/2021
Holly J.

Australia
I recommend this product
Perfect amount
Fantastic, I'm currently breastfeeding and going through 2-3 pairs a day so getting the 10 pack allows me time to wash and dry them without running out!
01/30/2021
Anonymous

Australia
I recommend this product
Beautiful & Soft
I absolutely love these breastpads! They are incredibly soft and comfortable to wear - you hardly notice they are there. They also don't make you feel wet like disposables. The beautiful prints are just a bonus ! Highly recommend!
07/03/2020
Bonnie W.

Australia
I recommend this product
Best ones ive had!
I love these! Aside from being gorgeous and feminine, these are amazing! Ive tried a couple of different reusable breastpads in the past but these are my favourite! The waterproof fabric is a game changer! Soo absorbent! Very happy customer!
06/05/2020
Anonymous

Australia
I recommend this product
Couldn't be happier!
Great quality and fast delivery.
04/08/2020
Sharn C.

Australia
I recommend this product
Couldn't be happier
My experience ant the product exceeded my expectations. I'm a very happy customer.
11/16/2019
Agnes T.

Australia
I recommend this product
Not quite right
I loved the feel of the breastpads and the thickness of them as well - until I actually used them. I found that the diameter of the pads was slightly too large, so that there was a lot of 'bunching' in my bra. What really bothered me was how quickly it took before it started to smell of stale breast milk, when compared to my previous reusable breastpads from elsewhere, and it didn't really keep me dry. I also found it stuck to my nipples, which didn't feel great when they were already somewhat sore as they usually are when starting to breastfeed again. I think some tweaks to the fabric used on the breastside of the pads would be good - I loved the fabric prints, but not enjoying the wearing of the pads.
I recommend this product
Breast pads
Great product and very comfortable to wear. My only issue is that they are completely round and don't fold around neatly leaving little lumps of material. Otherwise I absolutely love them