Reusable Cloth Nappies for eco-conscious families. Australian owned, designed and operated from our headquarters in Townsville, QLD.
Our Cloth Nappies have been designed and created with simplicity but effectiveness in mind. Parents have been using cloth nappies for centuries; the wearing and washing process of reusable nappies does not need to be over complicated and our nappies reflect this. Simple to use, simple to wash - because we know that things that are complicated generally don't lead to long lasting change.
All of our reusable products feature high quality fabrics and materials which have been ethically sourced and made. We have been working alongside Australian artists for many years, to bring you beautifully crafted and unique designs.
Our Cloth Nappies are environmentally friendly, cost effective and easy to use, all while providing efficiency for you and comfort for your baby.
We are passionate about creating a range of reusable products for you and your baby which support your busy lifestyle and sustainability values.

Our Nappies
My Little Gumnut Cloth Nappies have be specifically designed for comfort, ease of use and effectiveness. Our nappies have 2 components – a soft, breathable and water-resistant outer layer ("the shell") and a super thirsty insert.
Our Reusable Cloth Nappy shells are made with an ultrasoft water-resistant material on the outside and feature a pocket made with 100% bamboo fleece on the inside. The bamboo layer will sit against your babies skin, keeping them dry and comfortable.
Our Cloth Nappy inserts are made with 2 layers of 100% bamboo on the outside and are filled with 3 layers of ultra thirsty microfiber on the inside.
Putting it all together, the insert will slide into the pocket of the shell, to create the perfect cloth nappy system for your little one.
As the insert is the absorbency part of the nappy, it has been specifically designed to quickly wick away any moisture (wee), leaving your babies skin feeling dry. By sliding the insert into the pocket of the shell, you are creating a barrier (the bamboo fleece layer) between babies skin and the insert. The bamboo fleece does not absorb the wee, rather it allows it to pass through and be absorbed into the insert.
Having this layer of protection between the insert and babies skin, allows for the insert to be changed without having to change the complete nappy (please note, we recommend changing the entire nappy every 2-3 changes however if baby does a poo, the entire nappy will need to be changed).
Our stay dry nappy design leaves your babies skin feeling dry which will decrease the likelihood of your little one developing any sort of nappy rash.
Sizing
At My Little Gumnut we are eco-conscious and aim to reduce our carbon footprint wherever possible. Which is why our cloth nappies are adjustable to grow with your baby. Our reusable nappies are suitable for weight ranges 3-18kg.
Liners
Our Cloth Nappies come complete and ready to use, however you may wish to add a liner to assist with clean up. Our bamboo liners are specifically designed to catch the solids and make the clean-up process easier and quicker for you.
We have created 2 designs of liners to suit your specific needs. Our Bio-Liners are designed as a single-use liner. After use, simply dispose of the solids into the toilet then dispose of the liner into the bin or compost. Our Reusable Bamboo Liners are designed to be used over and over again. After use, simply dispose of the solids into the toilet, rinse the liner under the tap and wash with your reusable nappies.
How To Guide
To ensure you get the most out of your cloth nappies, we have created a series of short "How To" videos to assist with understanding sizing, washing, liners etc. Click here to see these videos.
Accessories
At My Little Gumnut we are passionate about creating products which will allow you to create a complete reusable nappy system including Nighttime Cloth Nappies, Cloth Wipes, Wet Bags and Swimming Nappies.
Customer Reviews
12/20/2020
Kate R.

Australia
I recommend this product
Great fit
I love this little nappy, my cherub is only 4months and I find it's a great slim and super soft fit on her little chunky legs. So far I haven't needed to boost this nappy either which is another win.
10/14/2020
Julia M.

Australia
I recommend this product
Love these!
Love the Bamboo fleece lining and inserts of these nappies. Although that can make them slightly bulkier than others, they are infinitely quicker to dry. The inserts are practically dry straight out of the spin cycle of the washing machine! Quick drying makes such a difference, as it means less waiting, and therefore less nappies needed! The designs are gorgeous and particularly love the Aussie themes! Just ordered my next batch and some for my friend for her new bub!
09/15/2020
Roselyn

Wallis & Futuna
I recommend this product
Highly recommended
I bought few of these nappies along with the night time nappies for my little man and i must say i am so impress with the prints, softness, quality and not to mention the reasonable price! I started these nappies on my son when he was one week old. And they are so easy to wash. I will but more in near future. And the customer service is fantastic ! They responded immediately! Thank you Jessica ❤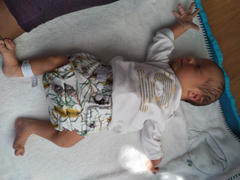 02/26/2020
Maree M.

Australia
I recommend this product
Love the prints
The fit on my 7kg chubby thighed little lady is great with the easy adjustable snaps. No issues with absorbancy either - 4 hours no leaks.
02/19/2020
Matilda B.

Australia
I recommend this product
Great affordable nappies
We are very happy with our recent MLG purchase. The pockets are quite stretchy and easy to stuff, they are a great fit and the inserts are quite absorbent too. A great price and some beautiful prints as well!
01/23/2020
Bronwyn P.

Australia
I recommend this product
Mcns
I find them a great fit for my bub and really good absorbancy - I'm thoroughly enjoying using my little gumnuts mcn's. I've recommended to my friends. Plus I love the gorgeous designs
01/13/2020
Rachel T.

Australia
I recommend this product
Banksia
This is the most stunning print! Such a soft snuggly nappy love it!
01/02/2020
Kaylee T.

Australia
10/09/2019
Anonymous

Australia
I recommend this product
Banksia Nappy
I love the Banksia design, Australian native and botanical designs are my absolute favourite. The nappy performs really well, my son is 12 weeks and we are currently exclusively breast feeding. In terms of its ability to prevent leaks they've been pretty great so far. I'm yet to attempt night nappies but ordering some of the gusseted inserts to try is next on my list.