---
---
All of our Modern Cloth Nappies (MCNs) come with a waterproof cover and  a five-layered Bamboo Insert (made with 2 layers of bamboo and 3 layers of microfiber)
Our nappy covers are made with soft and smooth waterproof Polyurethane Laminate (PUL) and has a very soft bamboo-fleece inner layer with an inside pocket for the removable insert
The insert is the absorbency part of the nappy and will soak up any liquid, leaving the inner bamboo-fleece layer nice and dry against babies skin
To use, simply place the insert inside of the pocket, put the nappy on baby and use the snaps to fasten to the correct size. Please note the nappy should be firm around the waist and legs but not too tight; the nappy should not leave marks on babies skin
Our nappy covers can be used for up to 2-3 nappy changes (as long as baby has not poo'd) for an economical nappy system - additional inserts are available to purchase
For nighttime use, use our Nighttime Nappy or insert 2 Bamboo Charcoal Nighttime Boosters inside of the pocket in our daytime nappy covers
Use with our Bio-Liners or Reusable Bamboo Liners to make change time even easier
Use our Large Wet Bags for dirty nappies while out and about
View our multi-packs for even more savings
For an even more economical and waste free nappy system, use our Reusable Bamboo Baby Wipes
Click here to see our videos on how to use our Cloth Nappies
Artwork hand drawn by Madison Mueller Art exclusively for My Little Gumnut.
---
Customer Reviews
10/14/2020
Julia M.
Australia
I recommend this product
Love these!
Love the Bamboo fleece lining and inserts of these nappies. Although that can make them slightly bulkier than others, they are infinitely quicker to dry. The inserts are practically dry straight out of the spin cycle of the washing machine! Quick drying makes such a difference, as it means less waiting, and therefore less nappies needed! The designs are gorgeous and particularly love the Aussie themes! Just ordered my next batch and some for my friend for her new bub!
09/15/2020
Roselyn
Wallis & Futuna
I recommend this product
Highly recommended
I bought few of these nappies along with the night time nappies for my little man and i must say i am so impress with the prints, softness, quality and not to mention the reasonable price! I started these nappies on my son when he was one week old. And they are so easy to wash. I will but more in near future. And the customer service is fantastic ! They responded immediately! Thank you Jessica ❤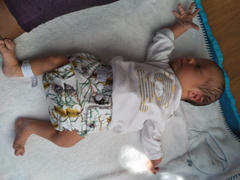 02/26/2020
Maree M.
Australia
I recommend this product
Love the prints
The fit on my 7kg chubby thighed little lady is great with the easy adjustable snaps. No issues with absorbancy either - 4 hours no leaks.
02/19/2020
Matilda B.
Australia
I recommend this product
Great affordable nappies
We are very happy with our recent MLG purchase. The pockets are quite stretchy and easy to stuff, they are a great fit and the inserts are quite absorbent too. A great price and some beautiful prints as well!
01/23/2020
Bronwyn P.
Australia
I recommend this product
Mcns
I find them a great fit for my bub and really good absorbancy - I'm thoroughly enjoying using my little gumnuts mcn's. I've recommended to my friends. Plus I love the gorgeous designs
01/13/2020
Rachel T.
Australia
I recommend this product
Banksia
This is the most stunning print! Such a soft snuggly nappy love it!
01/02/2020
Kaylee T.
Australia