Our Modern Cloth Nappy Starter Package is excellent to get your MCN collection started.
Package includes:
10 Daytime Modern Cloth Nappies (excludes Nighttime Nappies)
1 roll Bamboo Bio-Liners
1 large Wet Bag
PLEASE NOTE: If you would like to select your own patterns, please choose "Personal Selection of Patterns/Colours" from the dropdown menu and leave a message with your preferences. If a requested pattern/colour is sold out at the time of packaging, a similar pattern/colour will be selected. If no pattern/colour preferences are received, patterns/colours will be selected at random. Please click here to see available patterns/colours. Picture is for display purposes only, items in package may vary from those pictured.

Our one-size design of Modern Cloth Nappies (MCN's) are fully adjustable to fit newborn to toddler (approx 3-15kg). If washed and cared for as recommended, our nappies will fit and last from newborn until toilet training
Our Cloth Nappies are made with a waterproof cover and each nappy includes a five-layered Bamboo Insert
Our nappy covers are made from soft and smooth waterproof Polyurethane Laminate (PUL) and have a very soft bamboo-fleece inner layer with an inside pocket for the removable insert
The insert is the absorbency part of the nappy and will soak up any liquid, leaving the inner layer nice and dry against bubs skin
To use, simply place the insert inside of the pocket, put the nappy on baby and use the snaps to fasten to the correct size. Please note the nappy should be firm around the waist and legs but not too tight; our nappies should not leave marks on babies skin
Our nappy covers can be used for up to 2-3 nappy changes (as long as baby does note poo in this time) for an economical nappy system - additional inserts are available to purchase
For nighttime use, either use our Nighttime Nappies or insert 1 or 2 Bamboo Charcoal Nighttime Boosters inside the pocket in the nappy cover (please note using our Nighttime Nappies will keep babies skin dryer during the night)
Use with our Bamboo Bio-Liners or Reusable Bamboo Liners to make change time even easier
Use our Large Wet Bags for dirty nappies while out and about
For a complete eco-friendly nappy system, use our Reusable Bamboo Wipes
View our multi-packs for even more savings!
Please note: Bamboo and Bamboo Charcoal inserts need to be washed 3-4 times prior to use to ensure they are at their maximum absorbancy level.
See all of our customer reviews here.  
Customer Reviews
I recommend this product
Amazing quality! Will be back for more
The quality of the nappies is fantastic, communication was excellent and customer service is 100%. Would Absolutely recommend and I'll be back to build a collection of prints!
12/19/2020
Anonymous

Australia
I recommend this product
Nappies
Absolutely love My Little Gumnut MCN! Easy to use, no leaks, great on bubs skin and they're gorgeous!
12/16/2020
Nicole H.

Australia
I recommend this product
Love love love
We love my little gumnut mcn! Ive always wanted to use them at starting our mcn journey at 16 months old i was nervous! I had faith in my little gumnut and you guys delivered. I got a random boys pack and every print is exactly what i wanted. I highly recommend my little gumnut!
08/15/2020
Victoria G.

Australia
08/03/2020
Anonymous

Australia
I recommend this product
Your little Boy touched our hearts when we went to pick up the nappies.He was so polite and professional.
My Daughter was overwhelmed with the nappies we got for her and so was Iam sure baby.Thank you for not only for a wonderful but healthy nappy for Bubby.
08/01/2020
Anonymous

Australia
I recommend this product
starter pack
I found the stud pattern a little confusing. I used the overnight insert but unfortunately the nappy still leaked. I love the whole idea of a useable nappy and they are great during the day.
08/01/2020
Anonymous

Australia
I recommend this product
We love our My Little Gumnut nappies!
As a first time mum and first time reusable nappy user I was a little sceptical particularly about the washing process. However we have had no trouble at all since making the change and the washing process is so easy!! We had a few small leaks early on but putting that down to newbie user error. The nappies themselves are super soft and the patterns are great. Have been recommending to all my friends who are about to become first times mums :)
07/12/2020
Chloe H.

Australia
I recommend this product
Easy to use, soft and great materials
My first experience using cloth nappies and me and my 10 week old boy absolutely love them!
04/15/2020
Carrie

Australia
I recommend this product
Love these nappies!
Couldn't be happier with our purchase of My Little Gumnut nappy starter kit - the nappies fit well (no leaks so far with our little boy) and love the choice of gorgeous designs available. The 'how to' videos on this site were a great help for us being new to cloth nappies, and we have found them easy to use at home. They are washing up really well and no marks/stains left behind. Highly recommend!
04/06/2020
Anonymous

Australia
I recommend this product
Great quality!
We haven't used our nappies yet as bub hasn't arrived but the packaging and communication was fantastic and we can't wait to use them :)
04/02/2020
Mikaela E.

Australia
I recommend this product
In love
Absolutely love my cloth nappies and all the amazing patterns.
04/02/2020
Nicola D.

Australia
I recommend this product
An amazing product
I cannot say enough good things about these nappies. Wish I had started using them earlier! Perfect fit not a single leak yet, gorgeous designs and so easy to use. My Bub does 3 poos a day and even that is not burdensome to deal with. I just use the bamboo liners and even if the nappies have poo on them the marks come out completely. I wash about 7 nappies at night and then hang them out and leave them for some time in the sun in the morning. There are no marks at all yet. I've even ordered nigh boosters so that I can eliminate my night huggies that I normally use. Finally no guilt with nappies! These are great, highly recommend!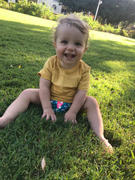 03/11/2020
Leah A.

Australia
I recommend this product
Amazing!
We just love our MCN Starter Pack! Everything we need, gorgeous designs, fast delivery and amazing customer service! The nappies are so easy to use and getting them in a value saving bundle is the icing on the cake!
02/09/2020
Jessica P.

Australia
I recommend this product
So easy to use!
Highly recommend using My Little Gumnut's modern cloth nappies! I was pleasantly surprised at how easy they are to use. Even the washing side of it is a breeze. I followed the how to guide videos and haven't had any issues with them. I love knowing I'm making an impact on the environment for my baby's future.
01/13/2020
Anonymous

Australia
I recommend this product
Great nappies for great value.
Such good nappies got such good value!! Highly recommend!
01/11/2020
Christina .

Australia