Our Modern Cloth Nappy Twins Package includes everything you need for full-time MCN use, for two!
Package includes:
36 Daytime Modern Cloth Nappies
4 Nighttime Modern Cloth Nappies
4 Nighttime Boosters for Cloth Nappies

20 pack Reusable Bamboo Liners
25 Reusable Bamboo Wipes
2 Single Pocket Wet Bags
2 Rolls

Bamboo Bio-Liners

2 Medium Swimming Nappies
PLEASE NOTE: If you would like to select your own patterns, please choose "Personal Selection of Patterns/Colours" from the dropdown menu and leave a message with your preferences. If a requested pattern/colour is sold out at the time of packaging, a similar pattern/colour will be selected. If no pattern/colour preferences are received, patterns/colours will be selected at random. Please click here to see available patterns/colours. Picture is for display purposes only, items in package may vary from those pictured.
Reusable Cloth Nappies for eco-conscious families. Australian owned, designed and operated from our headquarters in Townsville, QLD.
Our Cloth Nappies have been designed and created with simplicity but effectiveness in mind. Parents have been using cloth nappies for centuries; the wearing and washing process of reusable nappies does not need to be over complicated and our nappies reflect this. Simple to use, simple to wash - because we know that things that are complicated generally don't lead to long lasting change.
All of our reusable products feature high quality fabrics and materials which have been ethically sourced and made. We have been working alongside Australian artists for many years, to bring you beautifully crafted and unique designs.
Our Cloth Nappies are environmentally friendly, cost effective and easy to use, all while providing efficiency for you and comfort for your baby.
We are passionate about creating a range of reusable products for you and your baby which support your busy lifestyle and sustainability values.
Our Nappies
My Little Gumnut Cloth Nappies have be specifically designed for comfort, ease of use and effectiveness. Our nappies have 2 components – a soft, breathable and water-resistant outer layer ("the shell") and a super thirsty insert.
Our Reusable Cloth Nappy shells are made with an ultrasoft water-resistant material on the outside and feature a pocket made with 100% bamboo fleece on the inside. The bamboo layer will sit against your babies skin, keeping them dry and comfortable.
Our Cloth Nappy inserts are made with 2 layers of 100% bamboo on the outside and are filled with 3 layers of ultra thirsty microfiber on the inside.
Putting it all together, the insert will slide into the pocket of the shell, to create the perfect cloth nappy system for your little one.
As the insert is the absorbency part of the nappy, it has been specifically designed to quickly wick away any moisture (wee), leaving your babies skin feeling dry. By sliding the insert into the pocket of the shell, you are creating a barrier (the bamboo fleece layer) between babies skin and the insert. The bamboo fleece does not absorb the wee, rather it allows it to pass through and be absorbed into the insert.
Having this layer of protection between the insert and babies skin, allows for the insert to be changed without having to change the complete nappy (please note, we recommend changing the entire nappy every 2-3 changes however if baby does a poo, the entire nappy will need to be changed).
Our stay dry nappy design leaves your babies skin feeling dry which will decrease the likelihood of your little one developing any sort of nappy rash.
Sizing
At My Little Gumnut we are eco-conscious and aim to reduce our carbon footprint wherever possible. Which is why our cloth nappies are adjustable to grow with your baby. Our reusable nappies are suitable for weight ranges 3-18kg.
Liners
Our Cloth Nappies come complete and ready to use, however you may wish to add a liner to assist with clean up. Our bamboo liners are specifically designed to catch the solids and make the clean-up process easier and quicker for you.
We have created 2 designs of liners to suit your specific needs. Our Bio-Liners are designed as a single-use liner. After use, simply dispose of the solids into the toilet then dispose of the liner into the bin or compost. Our Reusable Bamboo Liners are designed to be used over and over again. After use, simply dispose of the solids into the toilet, rinse the liner under the tap and wash with your reusable nappies.
How To Guide
To ensure you get the most out of your cloth nappies, we have created a series of short "How To" videos to assist with understanding sizing, washing, liners etc. Click here to see these videos.
Accessories
At My Little Gumnut we are passionate about creating products which will allow you to create a complete reusable nappy system including Nighttime Cloth Nappies, Cloth Wipes, Wet Bags and Swimming Nappies.
Customer Reviews
04/28/2021
Caitlin B.

Australia
I recommend this product
Best baby purchase I have made
The nappies are great! So easy to use and to wash. With my twin girls, we were filling a wheelie rubbish bin each week with disposable nappies. I was feeling really guilty about sending that many nappies to landfill, and the cost was adding up too. The twin package has the perfect amount of nappies so that you always have some spare and ready to go. I wash them every two days and again, very easy to wash and dry. Have been recommending them to all my friends having babies. You won't regret it!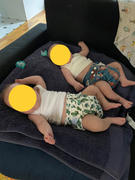 09/01/2020
Sarah S.

Australia
I recommend this product
Cloth nappy converted!
I bought the twin pack for my first baby who arrived in July. I opted for the twin pack for one baby to ensure I had plenty of cloth nappies and could do cloth full time. So far I am loving all the products. I started using them from about 4weeks+ once my daughter could fit into them without any leaks! The nappies wash up so well and look virtually brand new despite multiple poo explosions and they dry fast too! I was a little concerned initially about the extra work involved in cloth nappies but have since learnt it's not really any extra effort at all. I have found them to be much more trustworthy than disposables for avoiding leaks. Love these products, thank you My Little Gumnut Team :)
01/09/2020
Sarah P.

Australia
I recommend this product
In love with cloth nappies
We have been using My Little Gumnut modern cloth nappies full time with our son since he was 10 days old and we are beyond impressed and absolutely love using them! We also use reusable wipes, so nothing about changing our son's nappies ends up in landfill. My husband and I were talking about it last night and we would both highly recommend it to anyone who asked and we proudly tell people about them! They are fantastic value financially, they are great for Bub, easy to use and absolutely gorgeous, and of course better for the environment. We believe when products like these exist that make it so easy, there is truly no excuse for people to not use modern cloth nappies with their children, and in our current climate crisis, we would love to see more people making the change, or considering this while they are still pregnant to do it from the start. Our son is only 7 weeks old and it will be our pleasure to use My Little Gumnut modern cloth nappies until he is toilet trained.
11/16/2019
Anonymous

Australia
I recommend this product
Highly recommended
We bought the twin set for our daughter and we have found them so easy to use. Love the adjustability of the nappies. Daughter is very happy and comfortable in them and sleeps a lot better than ever did in disposables! Highly recommended.
10/02/2019
Cherise A.

Australia
I recommend this product
Absolutely Amazing!
Extremely happy with my purchase! Would highly recommend!