Our Modern Cloth Nappy Full-Time Package has been designed for full time cloth nappy use and includes everything you need to hit the ground running with Cloth Nappies!
Package includes:
22 Daytime Modern Cloth Nappies
2 Nighttime Cloth Nappies
2 Nighttime Boosters for Cloth Nappies
1 roll Bio-Liners
10 pack Reusable Bamboo Wipes
1 Wet Bag (single pocket only)
1 medium Swimming Nappy
PLEASE NOTE: If you would like to select your own patterns, please choose "Personal Selection of Patterns/Colours" from the dropdown menu and leave a message with your preferences. If a requested pattern/colour is sold out at the time of packaging, a similar pattern/colour will be selected. If no pattern/colour preferences are received, patterns/colours will be selected at random. Please click here to see available patterns/colours. Picture is for display purposes only, items in package may vary from those pictured.

Reusable Cloth Nappies for eco-conscious families. Australian owned, designed and operated from our headquarters in Townsville, QLD.
Our Cloth Nappies have been designed and created with simplicity but effectiveness in mind. Parents have been using cloth nappies for centuries; the wearing and washing process of reusable nappies does not need to be over complicated and our nappies reflect this. Simple to use, simple to wash - because we know that things that are complicated generally don't lead to long lasting change.
All of our reusable products feature high quality fabrics and materials which have been ethically sourced and made. We have been working alongside Australian artists for many years, to bring you beautifully crafted and unique designs.
Our Cloth Nappies are environmentally friendly, cost effective and easy to use, all while providing efficiency for you and comfort for your baby.
We are passionate about creating a range of reusable products for you and your baby which support your busy lifestyle and sustainability values.
Our Nappies
My Little Gumnut Cloth Nappies have be specifically designed for comfort, ease of use and effectiveness. Our nappies have 2 components – a soft, breathable and water-resistant outer layer ("the shell") and a super thirsty insert.
Our Reusable Cloth Nappy shells are made with an ultrasoft water-resistant material on the outside and feature a pocket made with 100% bamboo fleece on the inside. The bamboo layer will sit against your babies skin, keeping them dry and comfortable.
Our Cloth Nappy inserts are made with 2 layers of 100% bamboo on the outside and are filled with 3 layers of ultra thirsty microfiber on the inside.
Putting it all together, the insert will slide into the pocket of the shell, to create the perfect cloth nappy system for your little one.
As the insert is the absorbency part of the nappy, it has been specifically designed to quickly wick away any moisture (wee), leaving your babies skin feeling dry. By sliding the insert into the pocket of the shell, you are creating a barrier (the bamboo fleece layer) between babies skin and the insert. The bamboo fleece does not absorb the wee, rather it allows it to pass through and be absorbed into the insert.
Having this layer of protection between the insert and babies skin, allows for the insert to be changed without having to change the complete nappy (please note, we recommend changing the entire nappy every 2-3 changes however if baby does a poo, the entire nappy will need to be changed).
Our stay dry nappy design leaves your babies skin feeling dry which will decrease the likelihood of your little one developing any sort of nappy rash.
Sizing
At My Little Gumnut we are eco-conscious and aim to reduce our carbon footprint wherever possible. Which is why our cloth nappies are adjustable to grow with your baby. Our reusable nappies are suitable for weight ranges 3-18kg.
Liners
Our Cloth Nappies come complete and ready to use, however you may wish to add a liner to assist with clean up. Our bamboo liners are specifically designed to catch the solids and make the clean-up process easier and quicker for you.
We have created 2 designs of liners to suit your specific needs. Our Bio-Liners are designed as a single-use liner. After use, simply dispose of the solids into the toilet then dispose of the liner into the bin or compost. Our Reusable Bamboo Liners are designed to be used over and over again. After use, simply dispose of the solids into the toilet, rinse the liner under the tap and wash with your reusable nappies.
How To Guide
To ensure you get the most out of your cloth nappies, we have created a series of short "How To" videos to assist with understanding sizing, washing, liners etc. Click here to see these videos.
Accessories
At My Little Gumnut we are passionate about creating products which will allow you to create a complete reusable nappy system including Nighttime Cloth Nappies, Cloth Wipes, Wet Bags and Swimming Nappies.
Customer Reviews
08/21/2021
Alice H.

Australia
07/17/2021
Kaitlyn

Australia
I recommend this product
Love. Love. Love
I'm due to give birth in the next 4 weeks and I'm so excited to use our new cloth nappies. I couldn't wait to open our order once it arrived and it did not disappoint. I never thought I would get emotional over cloth nappies, but here we are. I'm so excited and in love with all the designs and simplicity of them. This package has everything needed to use cloth nappies full time. Can't wait to use them once or little man arrives. Thank you so much!
03/03/2021
Anonymous

Australia
I recommend this product
Everything you need
This package had everything I needed to make the switch to full time MCN use. Great value for money.
08/11/2020
Tamara W.

Australia
07/15/2020
Anonymous

Australia
I recommend this product
Yet to use
products arrived quickly, yet to use as my baby isn't due yet
04/20/2020
Anonymous

Australia
I recommend this product
Absolutely stunning designs and amazing quality
I just received my ultimate package of nappies and I am in love with every single pattern and design on these nappies. I will be using from newborn and am confident they will fit with the variety of combinations available for sizing. So happy I made this purchase.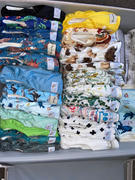 04/17/2020
Anonymous

Australia
I recommend this product
Love love love
Fantastic nappies and easy to use. An absolute bonus that they come in such cute prints/colours. Wish I had of used this brand with my first born
04/05/2020
Rebecca G.

Australia
I recommend this product
Quality and comfort!
My bub has always been prone to leaks no matter what nappies I used... these are so adjustable that I can get a good snug fit on him without compromising his comfort. Being able to customise nd add more padding so he can sleep through the night without being disturbed for changes and having full confidence that there will be no leaks is amazing. The patterns are adorable and all round a high quality product. Everything was packaged beautifully and i experienced great customer service when I had questions. Highly recommend to one and all looking to dive into reusable nappies.
03/14/2020
Anonymous

Australia
I recommend this product
Nappy review
The patterns are so beautiful and the quality is amazing. I'm loving our cloth journey and only wish we'd started earlier!
03/12/2020
Natalie C.

Australia
I recommend this product
Great value pack
We havnt used the nappies yet as they were a gift for my son and his wife expecting a baby in July. We have however gotten lots of recommendations from other mums who have used them and loved them. We loved all the colours in the unisex pack. Perfect to cover all babies nappie needs.
03/10/2020
Anonymous

Australia
02/12/2020
Kristen R.

Australia
I recommend this product
First time MCN user
This is my first time using MCN and this package has enabled me to do it full time from the get go. Made it a very easy transition and I LOVE the designs. So cute!!!
01/21/2020
Anonymous

Australia
I recommend this product
Very happy customer!
I was very happy with my most recent purchase of nappies, especially that my request was fulfilled with just having patten nappies, I could not be happier With them, they are just so soft and very easy to use.
01/10/2020
Steph R.

Australia
I recommend this product
Best Money Saving Life Hack for Baby!
This pack of MCN's has saved my fiancé and I soo much money not buying disposables - we bought these for our son as we wanted to be more environmentally conscious and reduce waste during the time he would be in nappies and can I say it's been great! We love the colours and patterns that came in the pre-picked boys pack and it certainly makes clean ups easier. Our son has really sensitive skin and since swapping him to the re-usables he rarely gets a rash now. The disposables would cut into his skin before (even with the leg bands fully extended) but since using the MCN's have never had this issue again.
12/16/2019
Cindy

Australia
I recommend this product
Beautiful product
Having started our MCNs for about 2 weeks now. We adore the variety of colours and patterns. They are easy to use and do significantly reduce the waste going to the landfill! It is awesome to know that we are making a difference by starting our newborn with MCNs. Have been so happy with the whole package, though there is one cover that the PUL does look like it is going to be come off soon after being washed only once. Overall, would definitely recommend the product to everyone!
12/11/2019
Christine

Australia
I recommend this product
Amazing Products
Having started by purchasing 2 night nappies I was quickly convinced that My Little Gumnut was going to be our MCN brand. I decided to order the Ultimate Pack along with 2 extra nappies to round out my stash. Delivery was quick and even when my order arrived missing the reusable wipes Jessica was quick to rectify the issue. The quality and design of these nappies are amazing, so soft on bubs and fit well plus super cute!! I could not be happier to be a cloth convert and to do it all with my little gumnut. I know these nappies will last the distance. I also love that packaging is kept to a minimum reducing any further impact on the environment. We LOVE LOVE LOVE our My Little Gumnut nappies